Entrepreuners Get Lifeline From Big Bang: 21 Million TL
'Big Bang Start-up Challenge', the world's most funded event for entrepreneurs, was held with a great participation this year. A total of 21 million TL worth of awards and investments were reached with 20 finalists who were eligible to take the stage at the final event, some semi-finalist groups in the foyer, and ITU Seed initiatives that received their second round investments. Reminis APP, WatchX-Codable Smart Watch and FilameX were the first three startups that received the most support among the 20 finalists who took the stage.
The 'Big Bang Start-up Challenge' competition, where ITU Seed Early Stage Incubation Centre brings together the best of the new initiatives with awards and investments every year, took place with more than three thousand participants. In the final event held in Uniq Istanbul, 20 technology start-ups that stood out among thousands of start-ups and qualified to take the stage were; Smart Magnet, SmartBES, BenzinLitre, Hextech Green, Drivee, Kodeco, FilameX, Hippist, Hyggefood Company, Intenseye, Iltema, Kobaküs, Laska Energy, Micro-S Biotechnology, Otomazone, PetSurfer, Reminis App, Vagustim, watchX-Codable Smart Watch, Wollox. Among the groups that presented their initiatives to reach more than 21 million TL in the final stage, Reminis APP with 771,000 TL, WatchX-Smart Codable Watch with 437,000 TL and FilameX with 415,000 TL were the initiatives that were entitled to take place in the top three with the amount of awards they received.
In addition to the announcement of the awards and investments distributed to the startups on the Big Bang stage and the semi-finalists in the foyer area, some startups that had received investments on the Big Bang stage in previous years also received their second round investments on the Big Bang stage. These startups, which received their second round investments, managed to reach a total investment amount of 12 million TL.
The host ITU ARI Teknokent announced that it gave ITU Seed closed office awards to five startups, Innogate awards to six startups, and ITU MAGNET and open office awards to other startups. In the event, more than 40 supporters including Istanbul Chamber of Industry, Elginkan Foundation, Uludağ Automotive Industry Exporters' Association, Enerjisa Enerji, Allianz, Anadolu Efes, Anadolu Sigorta, ING Bank, TEB, Softtech, Arıkovanı, Koç Finans, 3M Turkey, Innova and Vodafone, 10 investor companies and investor networks and 2 individual investors provided investment and grant support to entrepreneurs focusing on the future.
ITU Rector Prof. Dr. Mehmet Karaca: "We support all entrepreneurs with all our strength, regardless of whether they are from ITU or not"
Stating that the 'Big Bang Start-up Challenge' was held this year with a more intense participation compared to other years, ITU Rector Prof. Dr. Mehmet Karaca said, "As ITU Seed, we have supported a total of 1,797 initiatives and 4,233 entrepreneurs since 2012. The total valuation of ITU Çekirdek initiatives, which received more than 50 million TL investment, exceeded 650 million TL and the total turnover exceeded 65 million TL.
ITU Seed, which enabled 388 startups to succeed and become companies with the support they received in just 7 years, created more than 1,400 jobs. This year, thousands of people from all over our country applied to ITU Çekirdek. It has never been so difficult to determine the entrepreneurs who will take the stage. With Big Bang, we will continue to support entrepreneurship in Turkey and bring successful business ideas together with the right investors."
ITU ARI Teknokent General Manager Assoc. Prof. Dr. Deniz Tunçalp: "We are working with all our strength to mobilise more resources for entrepreneurs"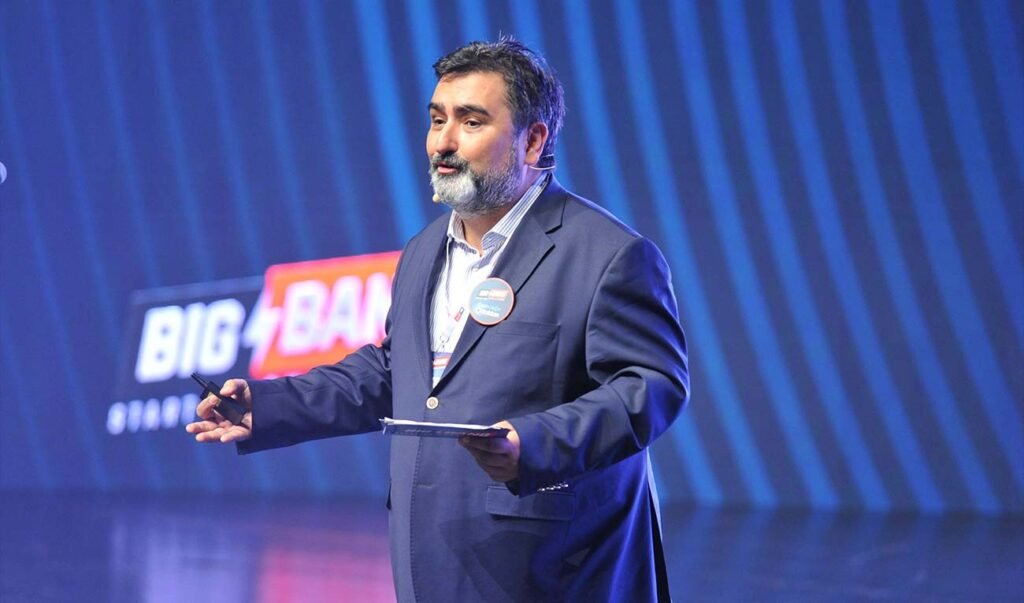 Stating that as ITU ARI Teknokent, they have built an ecosystem that is unique in the world, ITU ARI Teknokent General Manager Assoc. Prof. Dr. Deniz Tunçalp said, "Our entrepreneurs have been working for months for today. They are very excited. We are also very excited. With Big Bang, we are trying to grow the entrepreneurship ecosystem by inviting private sector organisations to give grants and awards and make investments. I would like to thank our main stakeholders, whose number increases every year, one by one. I would also like to make a call; come and join this co-operation. Let's become a bigger family. We need the participation of all of you to bring more entrepreneurs to success." Assoc. Prof. Dr. Tunçalp also stated that both the numerical data and the market success of the entrepreneurs of ITU Seed, the 2nd best incubation centre in Europe and the 3rd best incubation centre in the world, are progressing very well.
Assoc. Prof. Dr. Tunçalp continued his words as follows, "We are implementing one of Turkey's first digital factories within ITU ARI Teknokent with the support of Istanbul Development Agency (İSTKA). All entrepreneurs who want to produce their prototypes will find the solution they are looking for here. We are bringing together a machine park that has never come together in our country until now. In the coming days, we will open it to serve all of Turkey."
In the event, which was attended by the business world, entrepreneurs and those who want to witness the technologies of the future, the teams that succeeded in the final stage will be included in ITU Çekirdek Early Stage Incubation Centre and will be able to benefit from all the opportunities offered by ITU Çekirdek free of charge for 1 year.