Big Bang finalists are announced
ITU Seed, one of the most successful incubation centres of our country established within ITU ARI Teknokent, will hold the Big Bang Start-up Challenge, which determines the best of the new initiatives every year, on Thursday at Uniq Istanbul.
Within the scope of the event, Big Bang, which selects new finalists from thousands of applications, announced 26 initiatives that qualified for the final. Of the 26 finalists announced, the 20 start-ups that are eligible to take the stage will be announced on 22 November. Let's add that for the seventh time this year, ambitious entrepreneurs will meet investors and corporate companies at the Big Bang.
Last year, more than 17 million TL was provided to entrepreneurs at the Big Bang, and this year, with the new stakeholders of ITU Seed and the growing entrepreneurship ecosystem, it is planned to bring together a large amount of resources with entrepreneurs again. You can find the startups that qualified for the finals of Big Bang below.
Big Bang finalists
Smart Magnet: It offers an IoT solution that allows consumers to place orders by simply touching their phones to fridge magnets without the need to download a new application on their phones.
SmartBES: It helps users achieve higher returns by allowing them to use their fund distribution change rights, which are 6 times a year in the private pension system. Turkey's first digital platform in the field of AkıllıBES, which offers personalised advice according to changes in the lives of participants such as getting married, having children, buying a house and changing jobs.
PetrolLitre: BenzinLitre, which enables users to save money and make the decision-making process smarter by listing all fuel stations with current prices, accurate locations and on-site facilities, also provides solutions to different needs of vehicle owners such as resting facilities, road assistance and insurance offers.
Hextech Green: It produces agricultural machinery that will start a new era in vegetable cultivation, where producers can grow natural seedlings without being affected by disasters, and consumers can grow their own natural vegetables in their kitchens.
Drivee: By automatically detecting traffic accidents, it enables emergency response teams to reach the scene quickly and keep the injured alive.
Kodeco: Ecomod, an L6/L7e class electric mini vehicle with a modular platform developed by the Kodeco team, was developed by designing a common chassis and power transmission platform with many optional building parts, considering the diversity of needs of target markets such as transport, logistics and F&B services.
Mips: Thanks to the device that allows men to measure sperm health at home, early diagnosis and treatment follow-up can be easily done.
FilameX: It is a recycling-oriented mini filament production machine that anyone interested in production, especially 3D printer users, can use with pleasure.
Hippist: Hippist is an e-commerce site based on micro e-export established for independent designers from Turkey who produce art, decoration, accessories and fashion to get the share they deserve in the European and North American markets, especially in the UK.
Hyggefood Company: Produces alternatives to animal products with plant micronutrients. Hyggefisk, the first product of Hyggefood Company, is a new generation caviar produced with herbal micronutrients and contains 13 vitamins, 9 minerals, L-carnitne and CoenzymeQ10.
Innoyum: It aims to evaluate the waste eggshell, separate the egg membrane in its content with the designed machine and produce a natural/hydrolysed eggshell membrane powder product, which is the active ingredient of supplementary food used in joint health.
Intenseye: Offers artificial intelligence-based video analysis services for smart cities, retail customer analytics, transportation, traffic monitoring and education sectors.
Iltema: Working on the development of heat-emitting textiles.
Kobakus: It enables all bank accounts to be managed on a single platform, simultaneously and with high security.
Foamy-Smart Turkish Coffee Machine: The Internet of Things-based Smart Turkish Coffee Machine grinds coffee beans and offers a fresh and delicious Turkish coffee solution.
Laska Energy: Thermo-chemical production of valuable raw materials and electrical energy from rubber-based waste.
Micro-S Biotechnology: Works to transform 'natural' into 'natural' with beneficial microorganisms, to increase the yield of natural products and to prevent diseases.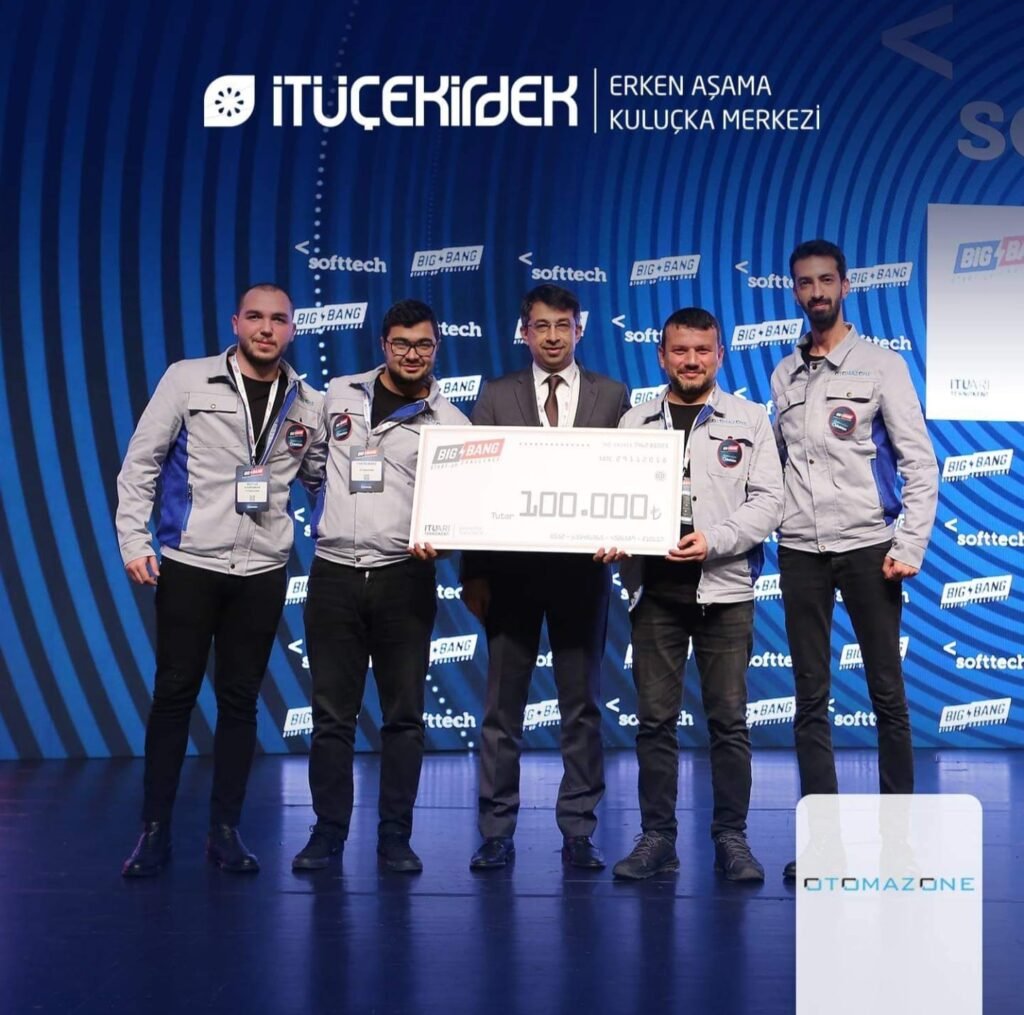 Otomazone: Turkey's industrial market, which is one of the largest market shares, aims to start a new era in the supply of electricity, automation and raw materials.
PetSurfer: Turkey's new generation pet platform that brings together pet owners and loving, reliable pet carers with a marketplace model.
Phoneix: It works in the field of obtaining hydrogen from flue gas and using it as fuel.
Reminis App: It enables users to instantly access their photos taken at events with face recognition technology.
Stockbank: It serves as an online B2B platform that enables the processes between companies in food retailing to be carried out with double-sided integration.
Vagustim: Vagustim, a personal medical device used in the treatment of migraine, increases suppressed parasympathetic activities by stimulating the vagus nerve, an important nerve of the parasympathetic nervous system. Vagustim, which stimulates the vagus nerve in the ear with low intensity electric current, eliminates the negative factors created by stress factors and puts an end to stress-related migraine.
watchX: It is a coding training kit in which users make their own smartwatch by combining the parts in the product box with simple operations.
Wollox Education: It is the only product in the world that makes the screen of any computer connected to Microsoft, Mac, Linux, Pardus operating systems and every area where the screen is projected interactive (touch) and does not require software installation to do this.
Wport: It enables websites using WordPress infrastructure to be converted into Android and iOS applications.